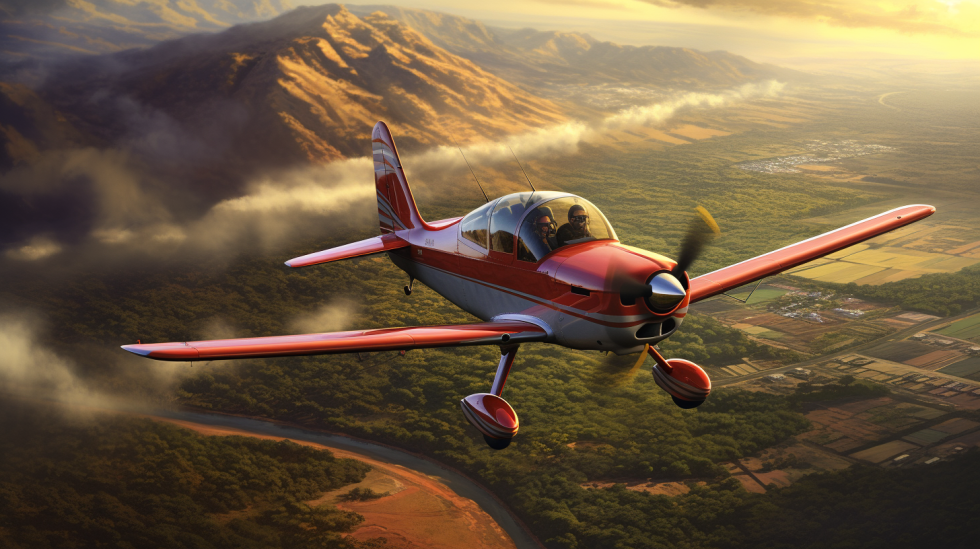 If you've ever dreamt of soaring through the skies as a pilot, South Africa offers numerous accredited flight schools where you can turn that dream into reality. These flight schools provide comprehensive pilot training programs, enabling aspiring aviators to obtain their Commercial Pilot License (CPL), Instrument Rating (IR), and Multi-Engine Rating (ME).
Here are some of the top universities and aviation academies in South Africa that offer outstanding pilot training:
Skyy Aviation Academy
Skyy Aviation Academy, a prominent aviation institute with branches in Durban and Cape Town, stands as a beacon for aspiring pilots and aviation enthusiasts alike. This distinguished institution is not only the first in Kwa Zulu Natal to offer cabin crew training but also holds a license from the South African Civil Aviation Authority, solidifying its reputation as a trailblazer in the industry. What sets Skyy Aviation Academy apart is its dynamic team of experienced professionals, collectively boasting over 120 years of expertise within the Aviation Industry. This wealth of knowledge and passion for aviation drives their commitment to students, fostering an environment of trust and support.
Skyy Aviation Academy prides itself on offering a diverse range of aviation-related training courses, catering to various aspirations and career paths. The academy's dedication to excellence is evident in its achievements, as it has the distinction of being the first Academy to offer the Amadeus computer reservation system and the only Altea Training center in South Africa. Fully accredited by the South African Civil Aviation Authority and TETA, the academy's commitment to meeting and exceeding industry standards is unwavering.
With branches in Durban and Cape Town, Skyy Aviation Academy provides accessibility and convenience for students seeking aviation education. Over its illustrious 17-year history, the academy has garnered recognition and trust from industry stakeholders and partners, solidifying its position as a reliable and reputable institution. As an alternative to conventional training institutions, Skyy Aviation Academy shines as a vibrant and energized center of learning, guided by a team of dedicated trainers who prioritize the success and growth of their students.
For those seeking a path to soar among the clouds, Skyy Aviation Academy offers a nurturing environment that empowers dreams to take flight. With a rich legacy of quality training and a vision for the future, this academy opens the door to an exciting world of aviation opportunities.
Cranfield Aviation Training
Cranfield Aviation Training, a distinguished flight school in South Africa, takes pride in offering an exceptional range of pilot training programs, backed by a commitment to safety and proficiency. Among their notable courses is the esteemed CRM – Private Pilots training, a program that has proven its efficacy over the past four decades. This invaluable training has consistently shown that pilots who undergo CRM training are significantly safer, making it a mandatory annual recurrency training.
The course structure entails an initial CRM training session every four years, followed by recurrency training for the subsequent three years. Ensuring relevance and currency, Cranfield Aviation Training updates the CRM course annually with the latest information sourced from global aviation authorities. The comprehensive training not only enhances skills but also serves as a reminder of each pilot's role and responsibility in ensuring safety and professionalism in their aviation endeavors.
With an unwavering dedication to excellence, Cranfield Aviation Training confidently asserts that its CRM training stands as the best source of CRM education in South Africa. The CRM – Private Pilots course is offered at a competitive rate of R985 ex VAT, encompassing a half-day session that empowers pilots with critical insights and techniques.
As a flight school that prioritizes the well-being and competence of its students, Cranfield Aviation Training invites aspiring pilots to partake in the CRM – Private Pilots training, an investment that promises a safer and more proficient journey in the skies. For course dates and further details, interested individuals are encouraged to contact the academy. Please note that all prices quoted are ex VAT per delegate and are subject to change without notice, ensuring transparency and flexibility in their offerings.
Paramount Aviation Academy
Paramount Aviation Academy, a renowned flight school in South Africa, offers a comprehensive Private Pilot Licence (PPL) training program, which serves as the pivotal first step towards obtaining a Commercial Pilot Licence (CPL). The PPL grants pilots the privilege of carrying a limited number of passengers, marking the beginning of an exciting journey in the aviation world.
Before embarking on this transformative path, aspiring pilots must meet specific prerequisites to ensure their readiness and eligibility. Paramount Aviation Academy provides guidance in securing medical examinations from approved aviation medical examiners, ensuring students' medical fitness. Additionally, applicants must meet age requirements, with a minimum age of 15 for the Student Pilot Licence (SPL), 16 to fly solo, and 17 to obtain their Private Pilot Licence.
Language proficiency is a crucial aspect of aviation safety and effectiveness, and aspiring pilots must meet the English Language Proficiency standards to partake in the PPL training. Moreover, students must arrange for a Student Pilot Licence, medical certification, and excess insurance before commencing their first flight, solidifying their preparedness for this exhilarating endeavor.
The PPL training program comprises both practical and theoretical components, providing a well-rounded and comprehensive education for future pilots. Practical training includes a minimum of 45 hours on a fixed-wing aircraft or 50 hours on a helicopter, with 30 hours of dual flight training under the guidance of experienced instructors. Additionally, students undergo 15 hours of solo flight training, including a minimum of five hours dedicated to solo cross-country navigation flights. The journey culminates in a practical flight and navigational skill test, where students demonstrate their acquired expertise.
Complementing the practical training, theoretical knowledge is honed in several subjects, each requiring a minimum pass mark of 75%. These subjects include Principles of Flight, Air Law, Meteorology, Navigation, Flight Planning and Performance, Human Performance and Limitations, Aircraft Technical and General, and the Restricted Radio Telephony Certificate. Paramount Aviation Academy ensures that students are well-prepared by incorporating theoretical and briefing components into each flying session, fostering a proactive and engaged approach to learning.
For those seeking to embark on a fulfilling career in aviation, Paramount Aviation Academy's Private Pilot Licence training offers an exceptional foundation. The academy's dedication to excellence, experienced instructors, and comprehensive curriculum ensure that aspiring pilots receive the highest standard of training. With Paramount Aviation Academy, the skies become the canvas for dreams to take flight, as students transform into skilled and confident pilots, ready to navigate the boundless horizons of the aviation realm.
43 Air School
43 Air School, a leading flight school with an illustrious history of over 30 years, warmly welcomes aspiring pilots to experience world-class pilot training. Distinguished by its commitment to excellence, unmatched facilities, and an unwavering passion for aviation, 43 Air School sets the bar high to ensure students receive the finest education in the industry. Over the years, the school has honed the skills of more than 6000 graduates, equipping them for successful careers in the general, airline, and military aviation sectors. However, it is 43 Air School's ability to consistently surpass customer expectations that truly sets them apart.
To embark on this extraordinary journey, certain pre-entry requirements must be met. Aspiring students need to attain ICAO English Language Proficiency Level 4, ensuring effective communication in the global aviation landscape. Additionally, a South African Aviation Medical (Class 2) certification is essential to ensure medical fitness for the demands of flight training. Prospective students must also be 17 years or older on qualification, signifying the school's focus on nurturing mature and responsible aviators.
While not mandatory, a background in School Mathematics, Physical Science, and English is recommended, as it provides a solid foundation for aviation studies. 43 Air School is dedicated to delivering unparalleled pilot training by providing students with the best resources, state-of-the-art simulators, and a fleet of 70 aircraft. With 75 highly skilled instructors and a total staff of 240, the school ensures personalized attention and expert guidance throughout the training process.
One of the distinct advantages of 43 Air School's locations in South Africa is the availability of dedicated flying training areas, low air traffic density, and excellent access to instrument training facilities. These features create an optimal learning environment, enabling students to focus on honing their flying skills without distractions.
For those who aspire to be part of the aviation community and seek a career as a skilled pilot, 43 Air School stands as an epitome of excellence and opportunity. Their commitment to delivering exceptional pilot training experiences is a testament to their passion for aviation and their dedication to producing the next generation of proficient and safety-conscious aviators. As you step into the world of aviation with 43 Air School, you embark on a transformative journey that will open doors to a future of boundless possibilities in the skies.
ATNS Aviation Training Academy
ATNS Aviation Training Academy (ATA) takes great pride in its vision of playing a significant role in enhancing aviation safety in Africa through its comprehensive training efforts. The academy is deeply committed to adhering to world best practices and endeavors to equip each client with the necessary skills and knowledge to meet the challenges encountered in Air Traffic Control and technical services.
As a TRAINAIR Plus FULL member and an ICAO Regional Training Center of Excellence, ATA upholds uncompromising standards in delivering exceptional goods and services in accordance with ISO 9001 standards. To ensure the highest level of quality, the academy employs only professional instructors and expert personnel, utilizing state-of-the-art equipment and facilities throughout its training value chain. This steadfast commitment guarantees that all training programs adhere to exemplary international training standards.
ATA's dedication to excellence has not gone unnoticed, as evidenced by its status as an International Air Transport Association (IATA) regional training provider. The academy has been awarded IATA's prestigious Worldwide Top Regional Training Partner for several consecutive years, cementing a strong partnership that culminated in ATA being named IATA's 2016 Premier Circle Member.
Education and Quality Assurance are of paramount importance at ATA, with a dedicated department responsible for administering written and online examinations and assessments. The department also handles the recognition of prior learning (RPL) and manages accreditation and certification processes. ATA prides itself on fostering sound relationships with its students and clients, ensuring their well-being throughout their journey with the academy.
The Teaching, Learning, and Design department oversees the entire course development process, from research and development to ensuring currency and availability of academic resources. Additionally, Training Support and Administration offer a wide array of services, ranging from student registrations and academic records to maintaining air traffic control simulators and engineering laboratories.
The academy provides specialized training in various aspects of the aviation field, such as engineering training, air traffic services, safety management systems, team resource management, and more. Notably, ATA is approved by the CAA to offer a range of air traffic control training courses, enabling aspiring air traffic controllers to acquire the necessary skills and knowledge required for this critical role.
Furthermore, ATA holds approval to assess the English Language Proficiency for Air Traffic Controllers across all levels of the ICAO language proficiency ratings scale. This ensures that students are well-equipped to communicate effectively in the international aviation community.
With its commitment to excellence, unwavering passion for aviation, and a comprehensive range of training programs, ATNS Aviation Training Academy remains a driving force in shaping competent and skilled aviation professionals, dedicated to enhancing safety and efficiency in the skies of Africa and beyond.
Conclusion
In conclusion, South Africa offers a diverse range of reputable flight schools and academies that provide excellent pilot training programs. Students aspiring to become skilled aviators can explore various options based on their preferences, location, and specific requirements. Each of the above flight schools has its unique strengths and features, catering to a wide range of preferences and aspirations. Prospective pilots are encouraged to consider their individual needs, including location, training programs, accreditation, and facilities, before making their choice. No matter which flight school is chosen, embarking on a pilot training journey in South Africa opens doors to a fulfilling and rewarding career in aviation, paving the way for success in the dynamic and exciting world of flight.